Festival of Trees Founding Host Bobby Gordon AKA The King of Christmas
By Cesar A Reyes
November is here and with is the holiday season and one event that has San Diega's getting into the Christmas spirit early is the Festival of Trees. Now on it's third Year, Bobby Gordon and his volunteer based crew are working overtime to be ready to take over InsideOUT with some fantastic over the top Christmas trees that are up for auction on Sunday, November 19. We got the opportunity to speak with Bobby the King of Christmas about this year's event and his love for the holiday.
Tell us about yourself.
I'm Bobby Gordon, AKA the "King of Christmas" and I'm passionate about supporting the community in various ways. I grew up in northeast Ohio in a very conservative area and moved to San Diego after living in Phoenix for a while. Aside from the holidays, my passions include spending beach days with my rescue dog named Love and hosting fun events like Big Gay Trivia. Creative outlets are my passion. I'd love to try out for Jeopardy someday.
Where does your love of Christmas come from and where did you get your nickname "The King of Christmas"?
Growing up in a home full of arguments and an eventual divorce, and without a lot of money to spend, my parents intentionally made Christmas a singular priority of celebration and love. That came in the form of decorating, and growing up in the snow belt, there wasn't a lot to do when you're snowed in during the holidays other than make the home the brightest it could be. My passion turned into decorating my bedroom in full-holiday mode in over-the-top ways, even with my own smaller tree—and all with my parents' left-over 70's decorations like tinsel, big C-9 bulbs, bubble lights, Christmas music, etc. This passion turned into my hosting my friends in high school and college for themed birthday parties each July, which of course included a "Christmas in July" party where my dad graciously let me decorate the entire outside of our home, including outdoor trees, with Christmas decorations. My dad put up with a lot from this Christmas kid, but he saw how happy it made me. So, you could imagine what my home looked like during the actual holidays if that was just for summer! I've even visited North America's largest Christmas store in Michigan! I've adopted the "King of Christmas" nickname since starting Festival of Trees 3 years ago. Partially because it "fit" but partially because Mariah Carey attempted to copyright being "Queen of Christmas" and failed.
Festival of Trees is on its third year and the community response has been phenomenal, how does it feel and why do you think this event has been so well received?
The San Diego LGBTQ+ community's investment in and response to supporting Festival of Trees is beyond anything that I could have ever imagined. When I started the event, we were just coming out of COVID lock downs, and everyone was missing events. I think that helped make the first annual a success, but to sell out in advance last year was something I hadn't even considered. InsideOUT has been an amazing venue partner for our event, and we could not have succeeded without partners like them, and others who provide essential support to help underwrite it every year since we started, including CopyCove & Coldwell Banker West Foundation. I love being able to call Festival of Trees the official holiday kickoff party for the San Diego LGBTQ+ and allied communities!
In the past two years has there been a tree or trees that you are so enamored with that you want to take them home?
There have been so many of those! I'm amazed by the creativity of our tree sponsors. While I love them all, some of my favorites have been the Barrel & Board tree with rotating disco balls, while the tree rotated itself, Rich's 12-foot upside-down rainbow tree with a sassy mannequin on the top, and The Loft's rubber duckie themed tree.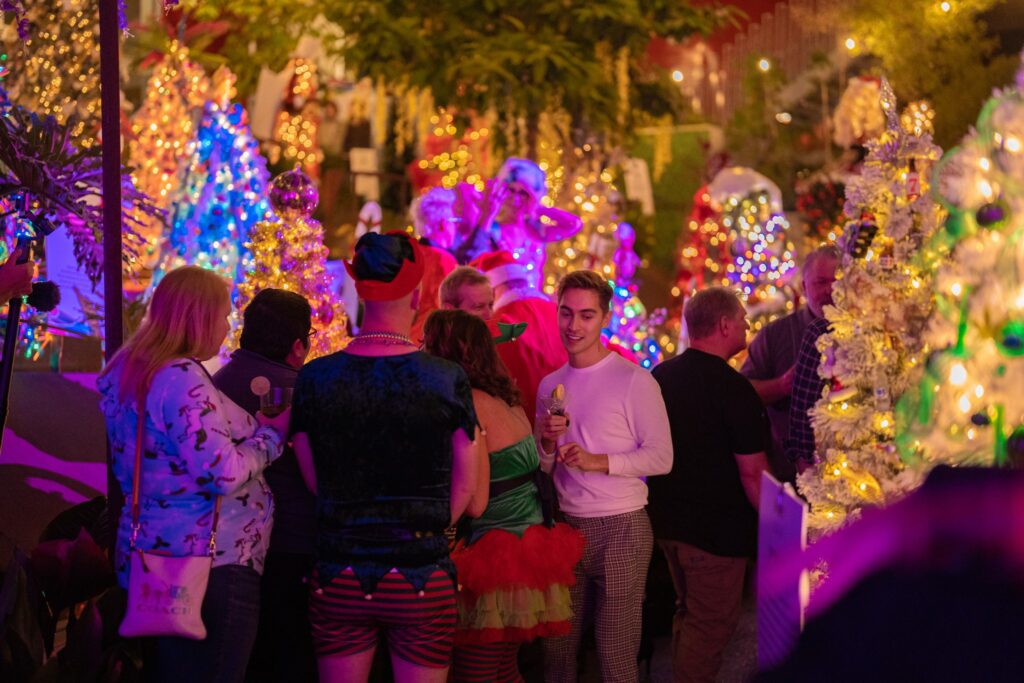 If you got to design a Christmas Tree to reflect your personality, what would be the theme?
I have two themes in mind—a "disco ball" themed tree, and a retro-50's style tree with bubble lights.
Can you give our readers a scoop on what to expect this year?
This year attendees are getting an even more robust VIP experience with more sponsors and offerings, as well as a record number of trees for auction and raffle. The Travel Raffle is a $1500 travel voucher plus 2 round-trip tickets anywhere Southwest Airlines flies—only for $100 per entry and limited to 100 tickets/entries sold! The Travel Raffle is the only part that people can participate in if they're not present, so if someone is out of town or can't make it, they can still enter the Travel Raffle and win. With a record number of trees, it's going to be a whirlwind event with over-the-top tree themes from our sponsors and designers.
Tell us about your beneficiary, Being Alive, and the work they do?
I refer to Being Alive as an "end-to-end" HIV/AIDS resource in San Diego, meaning that they help link individuals and families to community resources beyond health care and medicine. They've been doing this work locally for over 20 years, and as a staple of the Hillcrest neighborhood, they serve a vital role for individuals and families. In my opinion, until there's a cure for HIV/AIDS, it's important to continue to fundraise for the cause to help prevent new infections and provide treatment and resources for those affected. The great thing about Festival of Trees is that I've designed the event to provide 100% of the proceeds to Being Alive; meaning, once we've paid for the event expenses, all the money raised goes to our beneficiary. My non-profit organization, BGCA, is 100% volunteer based, doesn't have staff or an office to pay for, so our expenses are limited to producing the event to maximize our contribution to Being Alive.
Give our readers the rundown on how to attend the Festival of Trees at insideOUT?
VIP begins at 4pm and the main event doors open at 5pm. We'll have 3 hours full of light charcuterie, drinks, and holiday revelry. We'll feature several rounds of live auctions for trees, and tree winners get their trees delivered to their home by "Real Quality Movers (RQM)" within San Diego County the next day. We'll have a few trees available for raffle ticket purchases as well. Our Silent Auction is shaping up to have some unique art pieces, tickets to local events, and other fun packages. We'll have a 50/50 raffle as well, where the winner gets half of the money raised that night, and the Travel Raffle has really good odds for those who enter. Our general admission tickets are priced a bit lower than other events, to help encourage attendees to participate in event raffles and tree auctions.
How can our readers follow you in social media?
@bobby_gordon (Instagram) / @festivaloftreessd (Instagram & Facebook)